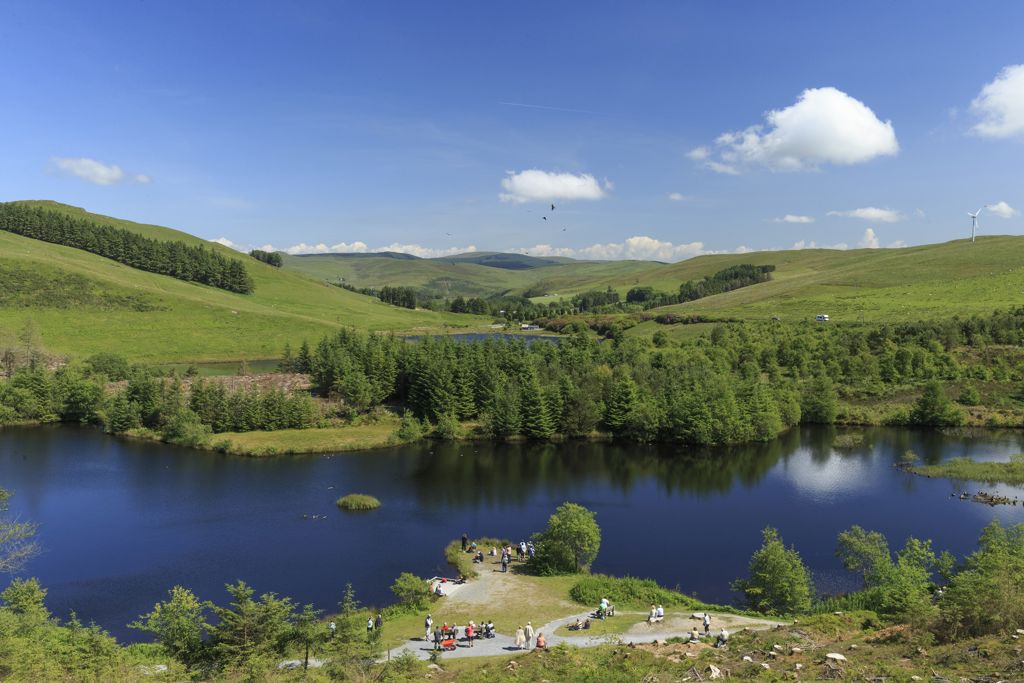 Overview
Bwlch Nant yr Arian Visitor Centre sits at the head of a dramatic valley and has commanding views of Cardigan Bay and the Cambrian Mountains.
The visitor centre is the starting point for a range of waymarked trails for walkers, mountain bikers, runners and horse riders.
It is well-known for its long established tradition of daily feeding of red kites, Wales's National Bird of Prey.
Bwlch Nant yr Arian has been awarded the Gold Award by Visit Wales for attractions which make an exceptional effort to create an enjoyable and memorable experience for their visitors.
The range of trails includes:
three waymarked walking trails of different lengths which all offer great views
three of the finest mountain bike trails in Wales, famous for long singletrack runs and superb views
skills park with a purpose-built track for mountain bikers to practice their technique
two running trails with flat sections, climbs and a variety of surfaces
four orienteering courses ranging from beginner level to a more challenging option for experienced orienteers
a waymarked circular trail for horse riders via forest tracks, paths and quiet tarmacked roads
Walking trails
All of the walking trails are waymarked and start from the visitor centre.
Barcud Trail and Animal Puzzle Trail
⅔ mile, 1.2 kilometre, accessible
The Barcud Trail leads you around the edge of the lake where the daily feeding of the red kites takes place (the Welsh for red kite is "Barcud Coch"). It is suitable for wheelchairs. Along the route there are wooden animals to spot - pick up an Animal Puzzle Trail leaflet from the visitor centre.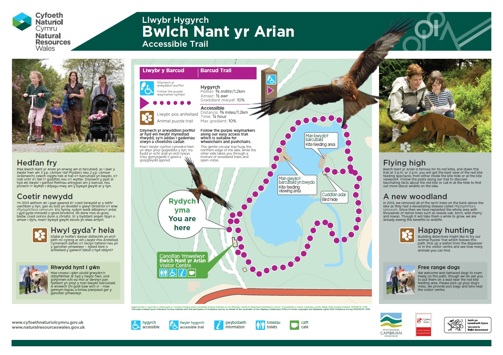 Miners Trail
1½ miles, 2.5 kilometres, moderate
The Miners Trail winds along the head of the valley, following a leat which once carried water to power lead mines. It then climbs a short but steep hillside and returns through recently planted deciduous woodland.
Ridgetop Trail
3 miles, 3.5 kilometres, moderate
The Ridgetop Trail rewards you with non-stop stunning views including a panorama of the Rheidol and Melindwr valleys, Cardigan Bay and Plynlimon, the highest mountain in mid Wales and which is known as Pumlumon in Welsh.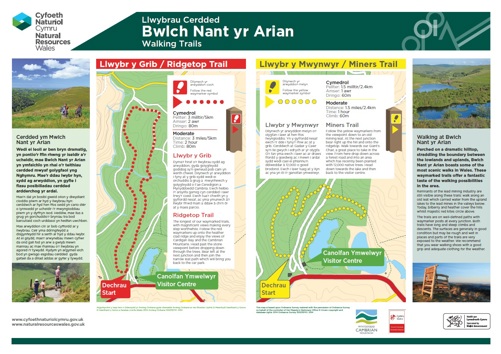 Mountain biking trails
All of the mountain biking trails are waymarked and start from the visitor centre.
See our mountain biking page for a list of all our mountain bike trails and information about grading to make sure you pick a trail that is right for you.
Please also read the relevant on-site information before setting off on your ride.
Pendam Trail
5.6 miles, 9 kilometres, Grade Red/Difficult
The Pendam Trail is the shortest trail at Bwlch Nant yr Arian and combines sections of the Summit and Syfydrin trails to give you a taste of fantastic riding with lots of technically challenging singletrack and some hard climbs.
 
Summit Trail
11 miles, 18 kilometres, Grade Red/Difficult
The Summit Trail takes in all the singletrack at Bwlch Nant yr Arian which includes plenty of flowing and twisty sections and a big climb in the middle as well as some superb views.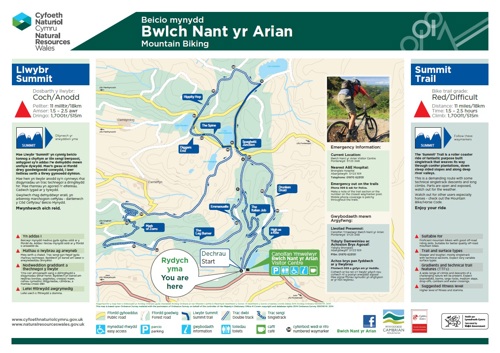 Syfydrin Trail
22 miles, 35 kilometres, Grade Black/Severe
The Syfydrin Trail includes the entire Summit trail with its fantastic singletrack, and also leads you out onto the high open hills for a long and challenging ride in exposed and remote countryside.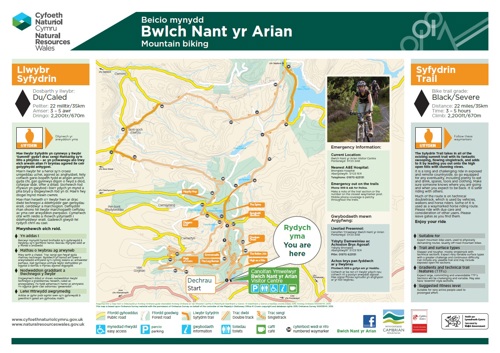 Parc Sgiliau (skills park)
The skills park is a purpose-built track for mountain bikers to practice their technique or just warm up before hitting the longer trails which start from the visitor centre.
Features include rollers, step ups, berms, tabletops, hips and bowls.
It was designed and built by Trailcraft.
The site was carefully selected so that the track doesn't affect other trails or the view of the lake.
Running trails
The waymarked running trails start from the car park.
Named after an imposing pair of Bronze Age local standing stones – Buwch a'r Llo (Cow and Calf), they are a fantastic introduction to trail running.
Be prepared for an interesting mixture of exposed forest roads and singletrack paths, with occasional roots, mud and rocks.
There are steep ascents and descents and occasional sections of tarmac road on Y Fuwch.
You will need suitable footwear and clothing and please be aware of other trail users.
Both of these trails require a reasonable level of fitness.
Y Llo
3.1 miles, 5 kilometres, moderate
Y Llo Trail starts off with a flat section almost two kilometres long before climbing up onto the ridge and leading back to the car park.
Y Fuwch
6.5 miles, 10.4 kilometres, difficult
This challenging run follows Y Llo before crossing the road and past a ruined farmstead. Join the forest road which will take you past Syfydrin Lake then back past the ruin before climbing back along the ridge to the car park.
The Fuwch Trail is a challenging route which takes in a variety of surfaces and several steep ascents.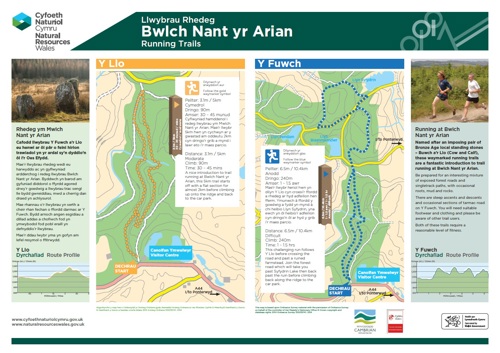 Horse riding trail
Mynydd March Trail
6.5 miles, 10.5 kilometres
The waymarked horse trail starts on the forest road (grid reference SN 717 814) and follows a circular route taking in a mixture of forest tracks, paths and quiet tarmacked roads.
Parking is provided along the forest road beyond the main car park with ample space for turning large vehicles.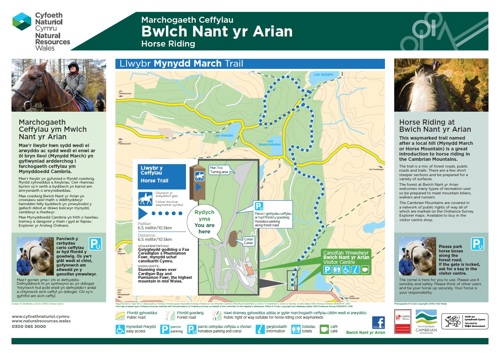 Orienteering
There are four permanent orienteering courses (a series of posts you have to find in order).
These include an easier course for beginners, often used by families, and a harder course for experienced orienteers.
Get the special map from the visitor centre, then use your map reading skills to try to find orienteering marker posts (called controls) in the right order.
Red kite feeding
In 1999, Bwlch Nant yr Arian became a red kite feeding station as part of a programme to protect the small number of red kites in the area at that time.
Nowadays, the red kites are fed by the lake every day at 2pm in winter (GMT) and at 3pm in summer (BST).
The Barcud Trail (an easy access route around the lake) and the café offer fantastic views of this spectacle.
You can also watch the red kites from the bird hide overlooking the feeding area.
You can expect to see as many as 150 kites coming in to feed – there are often more during winter months.
They are mostly local birds and they come to feed from within a 10 mile radius.
Play areas
There are two play areas, one for toddlers and one for older children.
The toddlers' play area is for children aged between three and six years. It has a safety-surfaced play zone and easy access for parents, pushchairs and young children. The equipment includes two toddler swings and a purpose built unit with a slide, climbing wall, climbing net and ladder
The Dizzy Heights Play Area is for children aged six years and older. It has a wood chip surface, two giant basket swings, an orangutan climbing frame and a purpose-built section with slide, climbing wall, rope ladder, fireman's pole and climbing net
All of the play equipment is of robust timber construction which blends in with the forest surroundings.
Discovery backpack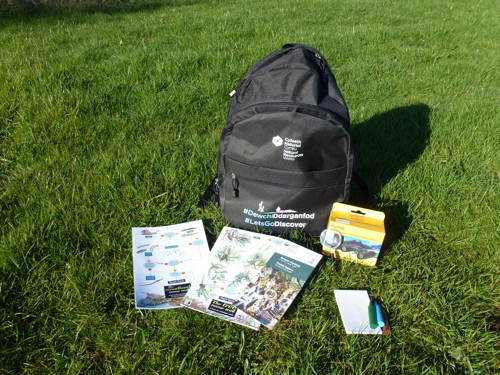 You can borrow a free discovery backpack at the visitor centre and discover more of the great outdoors.
Each backpack contains useful goodies like binoculars, a magnifying glass, a bug pot and nature identification cards along with a guide explaining how to use them.
Find out more about the discovery backpacks.
Café
The café menu includes hot and cold snacks and a delicious choice of cakes.
It is open seven days a week from 10am to 5pm.
Please note that hot food is only served between 10am and 3pm.
Shop
The shop sells wood crafts, jams and chutneys, bottled Welsh beer, books and an ever changing range of gifts.
Accessibility information
The Barcud Trail, which goes around the edge of the lake, is suitable for wheelchairs. There are no steps or stiles and the gradient is 10% or less with resting bays on uphill sections.
Other facilities include:
disabled parking
wheelchair access to the visitor centre and café
disabled toilets
facilities for the hearing impaired in café
courtesy wheelchair
Closures and diversions
Please note:
Sometimes we need to close or divert trails for your safety whilst we undertake maintenance work or forest operations
Occasionally we may have to close a site in extreme weather, such as high winds or snow and ice due to the risk of injury to visitors or staff
Please always follow any instructions on-site and make sure you follow any temporary diversion signs in place
Opening times
The

visitor centre

is open from 10am to 5pm seven days a week (except Christmas day, Boxing day and New Year's day).
The

café

is open from 10am to 5pm seven days a week (except Christmas day, Boxing day and New Year's day). Hot food is served between 10am and 3pm daily.
The

shop

is open from 11am to 4.30pm seven days a week (except Christmas day, Boxing day and New Year's day). It is closed during red kite feeding periods.
The

red kites

are fed daily at 2pm in winter (GMT) and 3pm in summer (BST). These times vary from winter to summer based on British Summer Time.
How to get here
Bwlch Nant yr Arian Forest Visitor Centre is nine miles east of Aberystwyth on the A44.
The OS grid reference is SN 717 813.
On-site parking costs £1.50 for up to two hours and £3.00 for over two hours. A season ticket is available.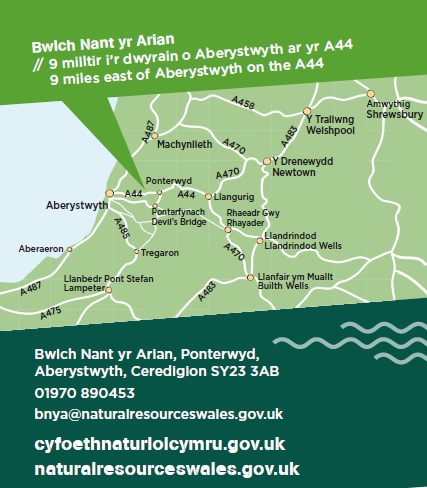 Public transport
The nearest train station is in Aberystwyth.
The 525 bus from Aberystwyth - Ponterwyd/Llanidloes stops on request at the entrance to the car park.
For details of public transport visit the Traveline Cymru website.
Find out more
Contact details
Bwlch Nant yr Arian Visitor Centre, Ponterwyd, Aberystwyth SY23 3AB
Tel: 01970 890453
Email: bnya@naturalresourceswales.gov.uk
Facebook: https://www.facebook.com/bwlchnantyrarian
Twitter: https://twitter.com/BNYArian
Related document downloads