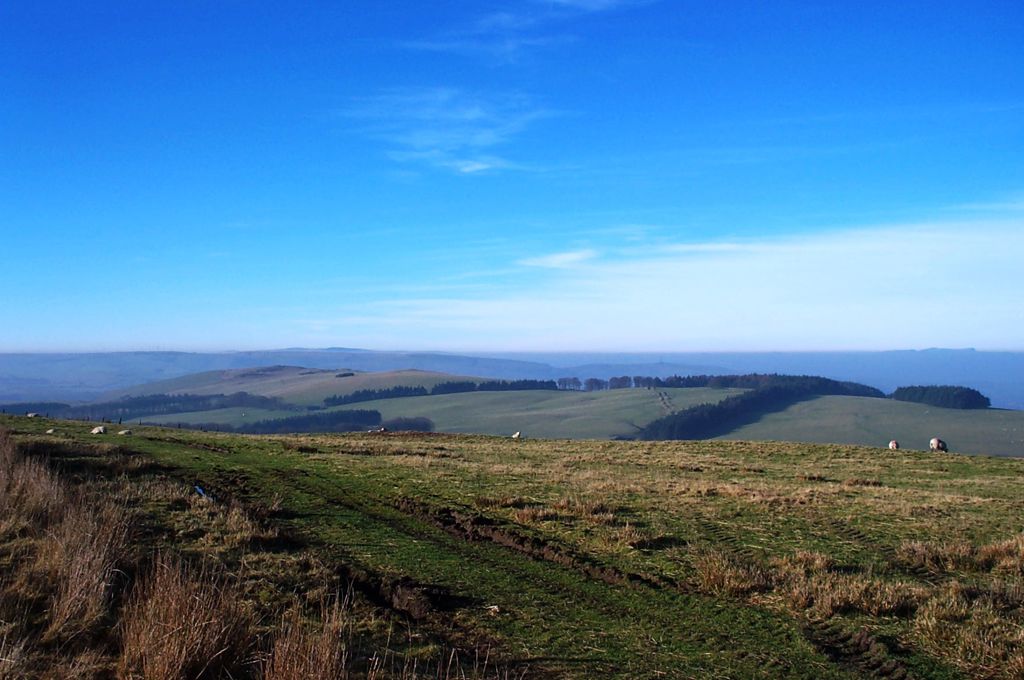 Overview
The Kerry Ridgeway is a long distance footpath, part of which runs through Ceri Forest.
The footpath follows a ridgetop overlooking Wales on one side and England on the other. It offers a flat hilltop route which is ideal for family walks and bike rides.
There is open access for horse riders throughout Ceri Forest.
History of the Kerry Ridgeway
The Kerry Ridgeway's origins are lost in the mists of time but it is older than the Iron Age and Dark Ages earthworks which cut its line.
The ridgeway has a long tradition as a trade and drovers' route from Wales to the lowland English markets.
Last used regularly by cattle and sheep drovers some 150 years ago, the ancient highway forges a track through airy heather moors, cool woodlands and breezy bilberry-rich heaths.
Walking the Kerry Ridgeway
The Kerry Ridgeway long distance footpath is 15 miles (24 kilometres) long from Cider House Farm, near the village of Dolfor, to Bishops Castle in England.
The route undulates gently throughout and is ideal for walkers, horseriders and cyclists, all whom can follow this ancient trail.
It never dips below 1000 feet (300 metres) above sea level, resulting in remarkable views in all directions.
The path is looked after by Powys County Council. There is parking and access points to the Kerry Ridgeway path at Block Wood (managed by Natural Resources Wales) and at Cider House Farm (managed by Powys County Council).
Closures and diversions
Please note:
Sometimes we need to close or divert trails for your safety whilst we undertake maintenance work or forest operations
Occasionally we may have to close a site in extreme weather, such as high winds or snow and ice due to the risk of injury to visitors or staff
Please always follow any instructions onsite and make sure you follow any temporary diversion signs in place
Walking trails
There are three waymarked routes from Block Wood car park, each of which follow a section of the Kerry Ridgeway.
Cider House Trail
1.5 miles, 2.5 kilometres
A short, gradual climb which rewards you with spectacular panoramic views and a chance to see the impressive earth works of Cross Dyke and Two Tumps.
Kerry Pole Trail
2 miles, 3 kilometres
A level walk on forestry tracks and through fields which takes you to the Kerry Pole and gives great views to the Vale of Kerry and beyond.
Two Ditch Trail
5 miles, 8 kilometres
This walk along part of the ridgeway track has good views and goes past Upper Short Ditch, near the Cantlin Stone and onto Lower Short Ditch.
How to get here
Block Wood car park in Ceri Forest is situated off the B4368, three miles south of the village of Kerry.
The OS grid reference is SO 149 862.
Car parking in Block Wood car park is free of charge.  
There is additional car parking at Cider House Farm, which is managed by Powys County Council and is the main starting point for the Kerry Ridgeway.
Public transport
The nearest train station is in Newtown.
Newtown is served by bus services 41 and 81.
For details of public transport visit www.traveline.cymru 
Find out more
Contact details
Tel: 0300 065 3000
Explore more
Elsewhere on the site
Apps